Portuguese Sweet Bread (Massa Sovada)
Another Perry Family Favorite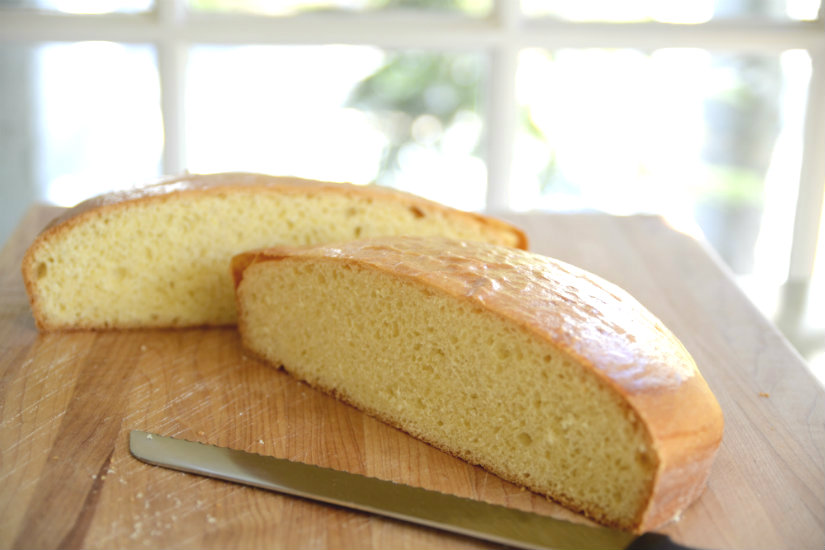 The secret of good bread making beyond the ingredients … Don't be afraid to use a little muscle in the kneading. No one made bread better than my grandmother. She often made 20 loaves at a time. That's some kneading, or more correctly a lot of muscle. Yep, her arms were strong, and she had well formed deltoids before it was in vogue.
This morning I enjoyed a generous slice of this bread with coffee my grandmother's way, cream and sugar. Yep, she was from the East Coast!
Just Perfect!
This recipe requires no condiments to enhance the flavor. Eat it hot from the oven. You'll see. It's amazing!
Why wait for holidays. Enjoy this any day.
Recipe
Makes two loaves
Bake at 350 degrees F for 10 minutes and then at 300 degrees F for 25-30 minutes
4 Cups of all purpose flour, more for kneading surface
1/2 Cup butter
3/4 Cup sugar
1/2 Teaspoon salt, 3/4 t if using unsalted butter
4 Eggs, one is used for wash
1/2 Cup milk-scalded
2 Teaspoons lemon zest (optional but oh so good)
1/4 Cup lukewarm water
1 Packet of dry yeast
Dissolve yeast in the water and set aside for 10 minutes
Scald milk, remove from heat and add the butter to melt
Beat eggs with sugar until fluffy
In a large bowl add the flour and salt, whisk
To the flour add the egg-sugar mixture, cooled milk-butter mixture, the lemon zest, and the dissolved yeast that has been stirred thoroughly
The dough may be sticky … so grease your hands. Knead the dough 20 minutes.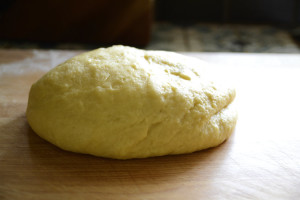 Kneaded dough
Place kneaded dough into a greased bowl large enough for the dough to double in size
Cover this proofing dough with a tea towel and place away from draft in a warm place 75-85 degrees F
NOTE: Because of the richness of this dough the doubling time may take 8 hours. Hope you are not timid about not refrigerating the ingredients during this process. For those that bake with yeast more frequently you will find the doubling time is much faster. Yep, wild yeast probably exists in your kitchen. Every kitchen environment, temp and humidity, is different which will determine the doubling time.
Once doubled punch down and form. I used two 9 inch round cake pans, forming a round flat dough. You may wish to have a taller bread. Then place in two 8 inch rounds. Or if you wish 3 small boule, form into three even balls. This bread will take on any shape. In fact, you can even make cinnamon bread, spreading a rectangularly formed dough with cinnamon and sugar, rolling up into a log, pinching ends and placing into a bread pan. Be sure to grease and flour your baking pans. After you have placed the shaped dough into the baking pans cover and again wait until the dough doubles in size.
My second doubling took 4 hours. Nope, no wild yeast in my kitchen.
Preheat oven to 350 degrees F
Brush tops with egg wash made of one beaten egg and a tablespoon of water.
Bake for 10 minutes at 350 degrees F and then turn down oven to 300 degrees F and continue baking until golden brown, 25-30 minutes
Smells amazing!