Salty Pretzel Chocolate Chip Toffee Bars
Super Bowl Sunday Dessert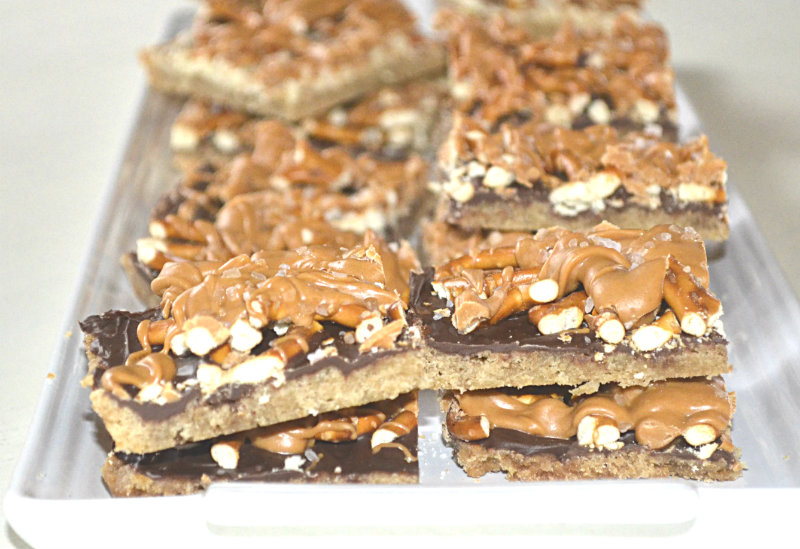 Love salty and sweet! Pretzel chocolate chip cookies look inviting but I wanted to do something a little different. So … I took my Chocolate and Walnut Toffee Bar Recipe and changed it up with pretzels, white chocolate, butterscotch chips, sea salt, and a bit of peanut butter.
What a great combination of tastes!
Recipe
Bake in a preheated oven 350 degrees F for 15-20 minutes until edges golden brown.
1/2 Cup butter-room temperature
1/2 Cup brown sugar-packed
1 Teaspoon vanilla
1 Cup all purpose flour
1/2 Scant teaspoon salt
1/4 Cup (milk or semi-sweet) chocolate chips or 1-2 ounces chocolate bar-recommend milk chocolate for sweet and salty experience
1/4 Cup white chocolate chips or 1-2 ounces white chocolate bar
1/2-2/3 Cup broken pretzel pieces
1/2 Cup butterscotch chips-melted with two teaspoons of peanut butter or one teaspoon butter for easy drizzling
Sea Salt for sprinkling
Follow the directions for the Chocolate and Walnut Toffee Bars until the chocolate chips are applied. Instead … visually divide the baked crust in half. Apply milk chocolate (or semi-sweet) to half the crust and white chocolate to the other half. If using candy bar chocolates be sure to chop up to smaller pieces. If the chocolate doesn't melt easily when applied to hot crust put the pan back into the oven for about 30 seconds. Remove the pan and spread the chocolate gently with the back of a small spoon over the crust … keeping the white and milk chocolates separate. Add the broken pretzel pieces evenly over the entire chocolate covered crust. Set aside.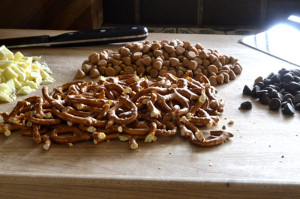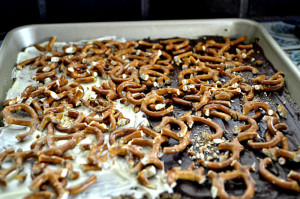 Melt the butterscotch chips. I use the microwave but this can be done over a double-boiler. If using the microwave … microwave in 10-15 second intervals then examine for consistency … Stirring after each time. This takes several intervals. When it is melted well add peanut butter or butter to help this drizzle more easily. You can try drizzling without the addition of either peanut butter or butter. I found it rather difficult. i used a table knife for the drizzling. No specific drizzling pattern is necessary. Sprinkle with a little sea salt. Set aside to cool butterscotch to firmness before cutting.