A Fun Treat or a Taste treat
Pumpkin cookies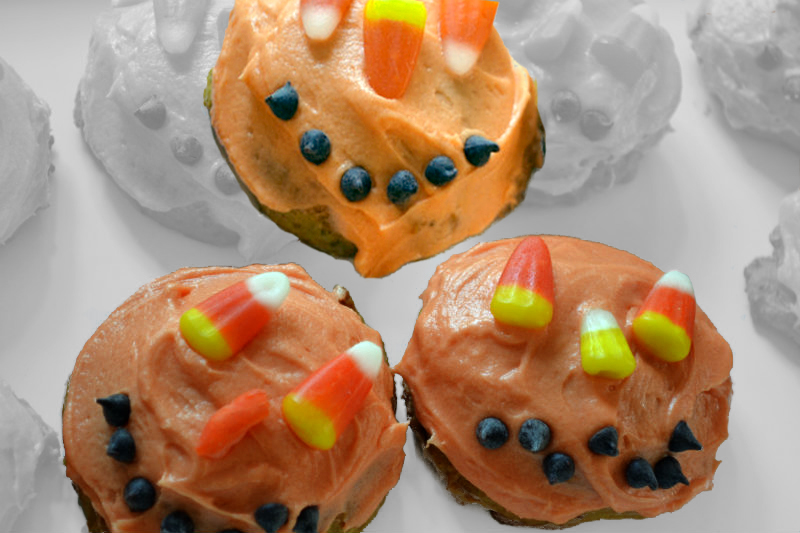 This cookie packed with pumpkin is fun to dress up for Halloween. But can go it alone even without the icing. This recipe has been in the family for years. It's just a very good pumpkin cookie recipe.
recipe
Bake 350 degrees F for 12-15 minutes or until top bounces back when lightly touched.
Makes 2 dozen 2 inch cookies
Bake on parchment covered cookie sheet
1/2 Cup butter
1 and 1/2 Cups dark brown sugar
2 Eggs
1 Cup pumpkin–canned or cooked
1 Teaspoon vanilla
2 and 1/2 Cups all purpose flour–sifted before measuring
3 Teaspoons baking powder
1 Teaspoon salt
1 Teaspoon cinnamon
1/2 Teaspoon ginger
1/4 Teaspoon cloves
1/8 Teaspoon nutmeg
1/8 Teaspoon all spice
3/4 Cup chopped walnuts
Icing
2 and 1/2 Cups powdered sugar–more or less for spreading consistency
1/4 Cup butter
1/4 Teaspoon salt
1/4 Cup cream
1 Teaspoon vanilla
1/2 Teaspoon orange extract
Food coloring and candies for decorating–optional
For cookies: Beat together butter and sugar until creamy. Add eggs one at a time and mix until fluffy. Mix in pumpkin and vanilla. Add dry ingredients that have been sifted together into wet ingredients until just mixed. Fold in walnuts. Use a small ice cream scoop to measure and drop the batter onto parchment covered cookie sheet. Bake and cool.
Cream together icing ingredients, add food coloring and decorate cooled cookies.