Roselyn's Chicken or Pork Adobo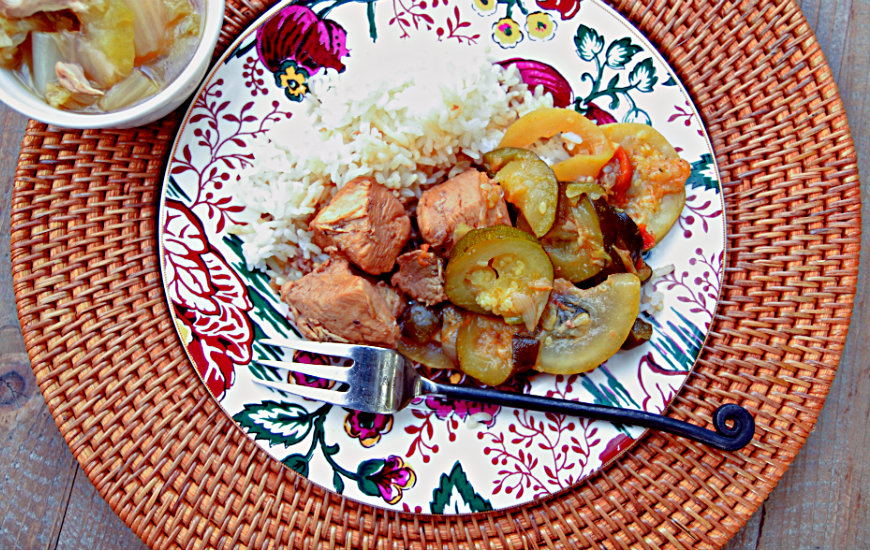 Delicious Filipino Dish with few ingredients! I like the idea of pork ribs instead but suit your meat preference. Because this recipe uses pickling spices I relate the meat taste to some Portuguese dishes. I just love it! Enjoy! And thanks Roselyn … Hoping for more.
Here is another adobo recipe you may enjoy. And I love Margaret's Spareribs too!
Recipe
Chicken-2 thighs, 2 drumsticks and 1 breast half or equivalent weight of pork ribs, about two pounds
1 Tablespoon of pickling spices
5 Tablespoons soy sauce
5 Tablespoons cider vinegar
Trappeys peppers in vinegar-sliced in half one pepper
Heat a large skillet over medium heat and use a little cooking oil to avoid sticking. But the idea here is to render off fat. Add the meat with the pickling spices. Turn as needed to avoid burning and cook for approximately 10 minutes until fat begins to collect.
Drain off the fat. It is not necessary to remove pickling spices.
Add soy and vinegar around the meat. Simmer on low medium for a few minutes.
Pour off liquids (saving it) except leave a tablespoon or two in the skillet with the meat.
Turn up heat to medium or slightly higher and brown the meat.
Add back the saved liquid. Turn heat to simmer. Add the sliced pepper.
Simmer about 15 minutes.
Add a little water if evaporation takes place.
If the dish is too salty add a little water.
Serve over white rice and with a side of summer squash.