Shrimp, Pasta with Baby Spinach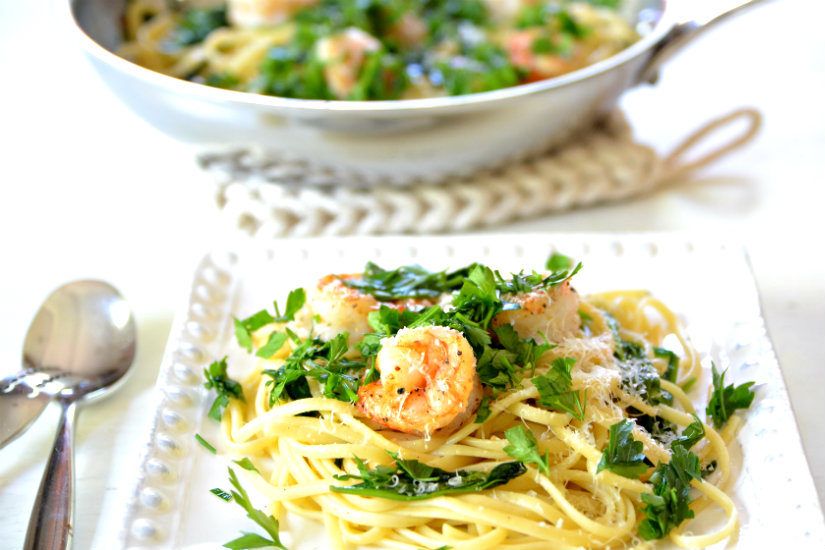 I'm always for quick, easy and delicious! This is my acquaintance Dan's recipe. Can you imagine, a conversation with me goes to food. HaHa. A perfect lunch or dinner meal when you wanna get out of the kitchen fast on these hot triple digit days. Thanks Dan!
Recipe
Dinner for two!
Linguini-4 ounces yields approximately 2 cups of cooked-This is a generous 2 adult serving.
2 -3 Cloves of garlic-peeled and sliced
2 tablespoons of butter
2 tablespoons olive oil
4-6 Shrimp per person depending on the size-deveined, peeled, washed and drained
5 Ounces of fresh baby spinach-washed and drained
1/4 Cup chicken broth-optional
Salt and Pepper if desired
Red Pepper flakes-a sprinkle is optional
Generous sprinkle of freshly chopped parsley
Grated Parmesan cheese
Cook the pasta per package directions in a tablespoon of salt.
In a large skillet melt the butter and add the oil to heat over medium heat burner.
Add the garlic and sauté for about one minute.
Remove the garlic or leave in the skillet if you choose.
Add the shrimp and sauté for about 5 minutes depending on the size and amount added to the skillet.
Add the spinach over the shrimp. As it wilts add more. The spinach cooks quickly. Stir to cover all with oil/butter and shrimp. Add broth if you feel you need more moisture. I do without. Salt and Pepper lightly. Add pepper flakes if you like. Heat all through.
Serve over drained hot pasta with generous sprinkle of parsley and Parmesan cheese.