Snack Mix Recipe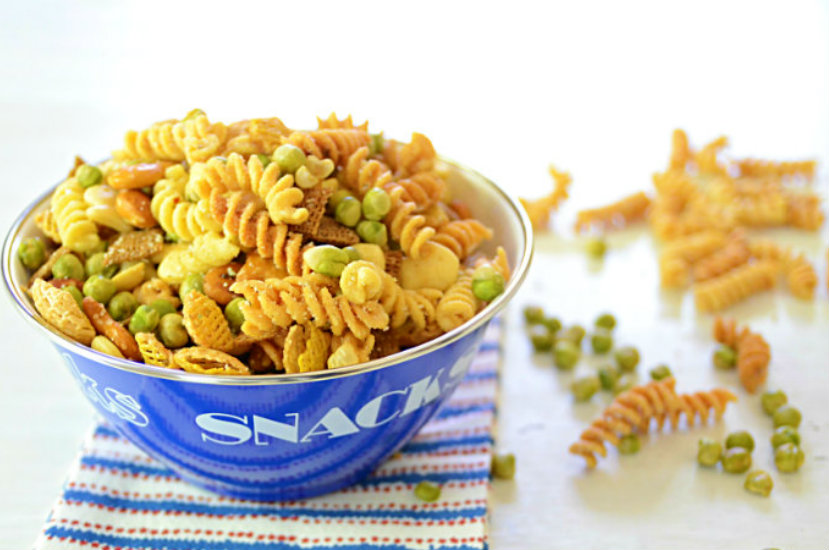 A Twist on an Old Snack Mix. Fusilli Parmesan Snack Mix! Fun snack to have this July 4th. Or for the family on movie night. Change the recipe to suit your family's likes. Even candy coated chocolate can be added after all cools. Bow tie pasta works. Wagon wheel pasta? Not sure. Give it a try!
And Steven, thank you for opening me up to "fusilly" so many years ago. I seem to be using it in everything.
Recipe
Part I
Canola or peanut oil (peanut oil preferred as it leaves no taste)
1/2 Pound dried pasta, bow ties or fusilli recommended
1 Tablespoon of salt for the pasta cooking water
1/4 Cup finely grated Parmesan cheese
Garlic salt or salt for sprinkling
Cook the pasta in 5 quarts of salted water until al dente. Drain and add a little oil and stir to keep from sticking. Stir again to dispense the oil. The pasta needs to cool completely and not be wet.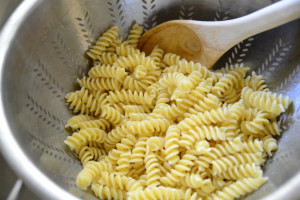 Next heat several inches, 2-3, of oil in heavy bottomed deep sided pot over medium/high heat. The oil will begin to appear thin and have ripples or waves across the bottom … it is hot! Drop one piece of pasta to test. The oil will rise about an inch or so but not splatter. It should not smoke … this is too hot. Use a thermometer if you are concerned, 350 degrees F. Now mentally divide the pasta in 4 batches. Add one batch at a time and cook until light brown. This takes about 2-3 minutes. If you remove the pasta without this change in color … the pasta will have the taste of uncooked dried pasta. Have a long handled wooden spoon available to keep the pasta from sticking to the bottom or to other pasta during this process. Remove with large draining spoon.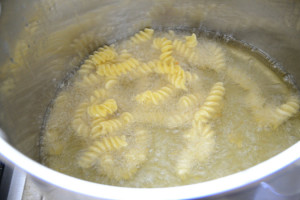 Place cooked pasta in a bowl or on a marble surface after removed and drained. Sprinkle with a small amount of the Parmesan.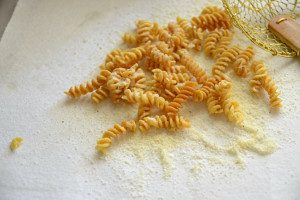 Taste the sprinkled pasta after cooled slightly for the need for salt. Add salt or garlic salt as needed. Repeat these steps again until all pasta is cooked. Then set aside.
Part II
4 Tablespoon butter-melted
1 Teaspoon seasoned salt
1/4 Teaspoon garlic powder
Pinch of onion powder
3 Cups Crispix corn and rice cereal
3 Cup Wheat Chex cereal
1 Cup Goldfish pretzels bites
1 Cup peanuts (freeze dried or not, or your fav)
1 Cup dried peas (either wasabi or masala)
1 Cup Parmesan Goldfish cracker bites.
1/4 Cup finely grated Parmesan cheese
Preheat oven to 250 degrees F.
Melt the butter and add the salt and powders. Stir until dissolved. Place the cereals, pretzel bites and peanuts in oblong baking dish or roasting pan. Drizzle the butter mixture over the top and place in the oven. Bake for one hour stirring the mixture every 15 minutes.
After the baking remove from the oven and cool slightly. Sprinkle with the Parmesan and stir to dispense. When completely cool add the Parmesan crackers, the peas and the pasta and mix thoroughly. The mix will remain fresh for a week or two. I have frozen in small batches to maintain freshness longer.
Hope you enjoy this!