Spaghetti Meatballs
Meatball Stuffed Mushrooms
And while we are waiting for the spaghetti and meatballs to cook let's have a stuffed mushroom made with some of the meatball mixture; and wine, red to go with what we put into the sauce. Cin Cin!
The spaghetti and meatballs (and the stuffed mushrooms) are ready and it's time to put on the Godfather. Clemenza will be giving Michael instructions about making a good sauce. Here is my version of Clemenza's spaghetti and meatballs … an easy sauce with meatballs and sausage.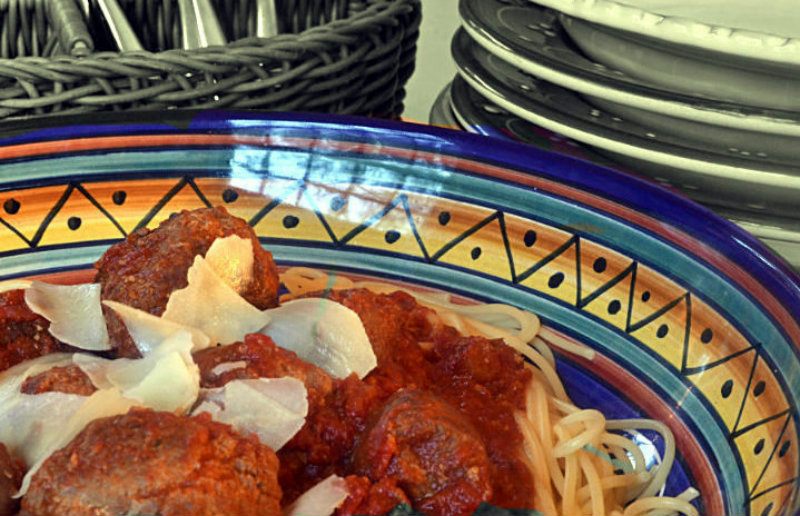 It takes 10-20 minutes prep time depending if you make the meatballs yourself or purchase some already to go. I hear from my daughter Trader Joe's has great turkey meatballs. The cooking time is important and is lengthy. Allow 3-4 hours for sauce simmering. What happens during this simmering is the meat creates the sauce flavor and the sauce creates the meatball flavor. Note: Turkey meatballs and turkey sausage will not impart the same depth of flavor as beef and pork, and may even dry out during this long cooking time. When I make this sauce I rarely add seasoning or salt other than what I add to the meatballs. Taste test along the way. You may wish to add a little sugar, teaspoon or two, especially if you haven't used plum tomatoes. And salt and pepper to taste.
For the stuffed mushroom save enough of your meatball mixture to stuff a healthy amount in each mushroom. For my six large mushrooms I used about 1/2 pound of meatball mixture. Set this aside. This recipe will follow the sauce recipe.
Recipe
Serves 6 adults
Meatballs-refer to my September 5th 2013 meatball recipe. Double the recipe and set aside 1/2 pound of this meatball mixture for the stuffed mushrooms, or more if you like. You will just have fewer meatballs.
Sauce
2 Tablespoons olive oil
2 Cloves garlic, minced
2-28 Ounce cans of plum tomatoes, cut up
1-15 Ounce can of plum tomatoes, cut up
6 Ounce can tomato paste
8 Ounce glass of red wine
Meatballs
1/2 Pound Italian sausage in casing, cut into 1 and 1/2 inch pieces
Sugar if needed, start with 1 teaspoon
Salt (I like to use garlic salt if salt is needed)
Pepper if you like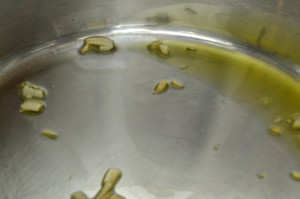 Sauté garlic in 6-8 quart pot.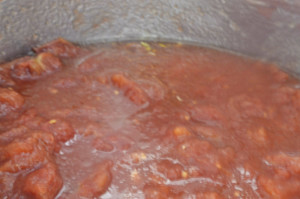 Add tomatoes and bring to a low boil. Then reduce to a simmer.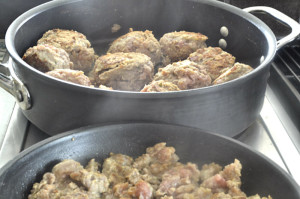 In the meantime brown the meatballs. If very lean meat this is not necessary. The smaller skillet has the meatball mixture for the mushrooms. This does require cooking until almost done through.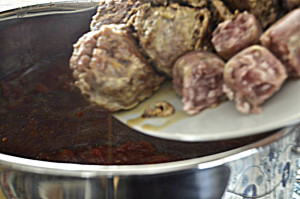 Add meatballs and sausage. The sausage has not been cooked.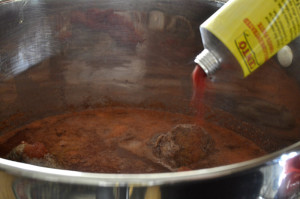 Add the tomato paste.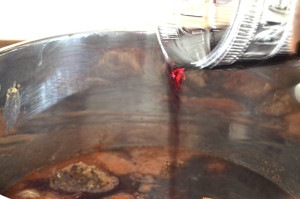 Add the wine. Stir.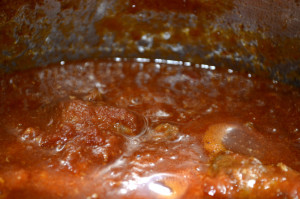 See the difference after the simmering for hours. It even looks richer. Cook pasta per package directions and serve with sauce, meatballs and sausage.
Meatball stuffed Mushrooms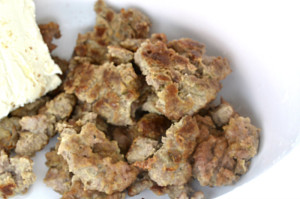 This is the cooked meatball mixture with 3 ounces of cream cheese.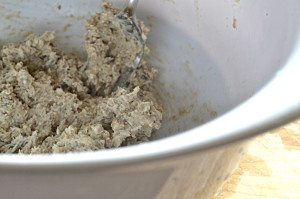 Mix with a fork until smooth and creamy. Minced mushroom stems have been added too.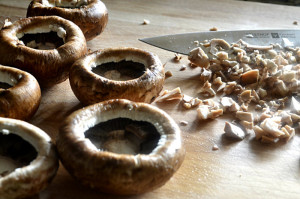 These mushrooms have been washed and dried. Stems removed and minced.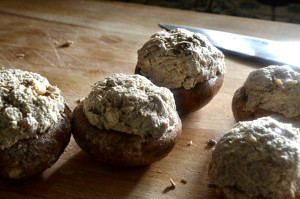 Stuffing added to each mushroom. Oven is preheated to 350 degree F. The stuffed mushrooms are placed on parchment covered cookie sheet. The mushrooms do weep a little. I recommend a cookie sheet with a lip or a jellyroll pan.
Bake for 30 minutes.
How to Prevent Dry Stuffed Mushrooms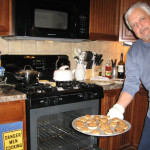 -If precooking a meat stuffing partially cook and finish cooking in the oven.
-Use bread crumbs to a minimum.
-Add moisture to a cooked stuffing mixture, such as; ricotta, cream cheese.
-And lastly, you already know this one, avoid over baking.
Thank you for the Tips!