Spinach Apple Banana Smoothie – Day 2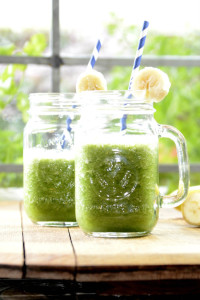 We're on Smoothie Day 2 … Yum! 1/4 Cup spinach makes this beautiful green.
Another quickie meal or snack! We love it!
Maybe too much green in the picture, my daughter mentioned. Oops, too late!
Recipe
About 16 ounces
1 Banana-slice into one inch pieces
1/4 Cup frozen spinach
1 peeled and cored apple-cut into quarters then each piece cut in half (Substitute 1/4 cup applesauce if you don't happen to have an apple.)
1 Cup apple juice or OJ
1 Cup ice cubes
Place ingredients into a blender and blend until smooth.
Just delicious, Spinach, Apple, Banana Smoothie!
Here I am with my daughter, the smoothie connoisseur.