Tex Mex Migas
Celebrating Cinco De Mayo & Austin's Birthday Too!

This is definitely a variation on Tex Mex migas. The guest of honor, Austin, may just have the same hesitations when it comes to onions and fresh tomatoes as his sister, Aubree. We are a family that orders on the side. Watching When Harry Met Sally, we recognize ourselves in the restaurant scenes … well, not all the restaurant scenes.
I have given recipe options for those that prefer on the side. This recipe is so very easy and just a nice meal for guests or a large family celebration.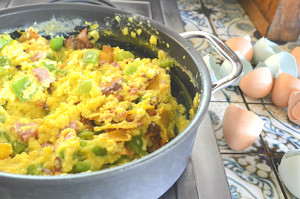 And again my chickens have been busy … I have all these beautiful eggs. That yellow!
Recipe
Serves 6-8
10 eggs room temperature-whisked and set aside
1-2 Tablespoons olive oil or butter
1/4 Cup cooking oil for cooking tortillas
5 Tortillas-torn into bite size pieces-the pieces will shrink a little when cooked
1/2 Pound water-cured ham (or chorizo for more traditional Tex Mex Migas–although often not used at all)
1/2 Cup sliced green onions or chopped yellow onions (Here green onions are served on the side)
1 Medium green bell pepper-diced; or substitute 2 medium jalapeño peppers, seeds and membrane removed then diced (For this dish, the bell is added but the jalapeño is sliced and served on the side, seeds and membranes intact-Yep, hot!)
1 1/2 Cups combined shredded cheeses-Monterey Jack, Queso Quesadilla and Asadero
1/2 Cup diced Roma tomatoes with membrane and seeds removed-optional to cook in dish
Salt and Pepper to taste
Garnish as desired with any of the following:
Fresh green onion-sliced
Cilantro-chopped
Sour Cream or Creme fraiche
Queso Fresco-crumbled
Roma tomatoes-diced
Salsa, pico de gallo
Jalapeños-diced
Avocados-diced
Serve with warm flour tortillas for rolling, and refried beans.
In a separate medium sized skillet over medium heat add the torn tortillas to the 1/4 cup cooking oil-canola or your choice. The oil needs to be hot but not too hot. Test with one torn piece. It should sizzle but not pop. Add all to your skillet and move around to cook all evenly. Cook until crisp. Adjust heat as needed. Drain on paper towels and set aside. Discard left over oil.
If using chorizo remove it from the casing and break it up into a clean skillet. The skillet should be very warm over medium heat. I do not use oil but my skillets are well seasoned or non-stick. Add a tiny bit of oil if needed. The reason for this precook is to cook out some of the fat. Cook just a short time, 2-3 minutes. It may not be fully cooked. You will finish cooking it with the eggs. Remove chorizo from the skillet, drain and set aside.
If using the onions directly in the dish sauté them in butter or olive oil for 3-4 minutes or until tender over medium heat in your large sized skillet.
Next add the bell pepper to your onions (if using onions directly in dish). If you are only using the bell as I did here add 1 tablespoon of the olive oil and sauté the bell until slightly tender.
To the bell pepper add the diced ham (or the precooked chorizo). The ham should be a precooked selection when purchased … So, just heat through. The ham is our family preference.
Now add eggs and give a few seconds to begin cooking before stirring. Over stirring gives crumbly scrambled eggs. Add 1 cup cheese after eggs cook a bit and begin to form clumps. Add fresh chopped Roma tomatoes if desired or serve on the side.
Add the cooked tortilla pieces.
Pull eggs away from heat while still slightly moist. Place in serving dish. They will continue to cook for a short time off the heat.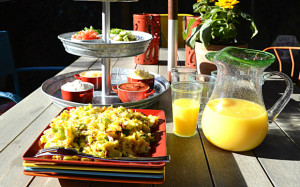 A great meal to serve on the patio!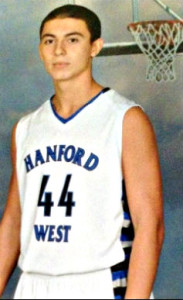 Austin still growing and I believe he's 6'4″.
Did I get the height?
Happy Birthday, Austin! Yes, I remember your
birthday is really on the 6th!