Thumbprint Cookies In A Hurry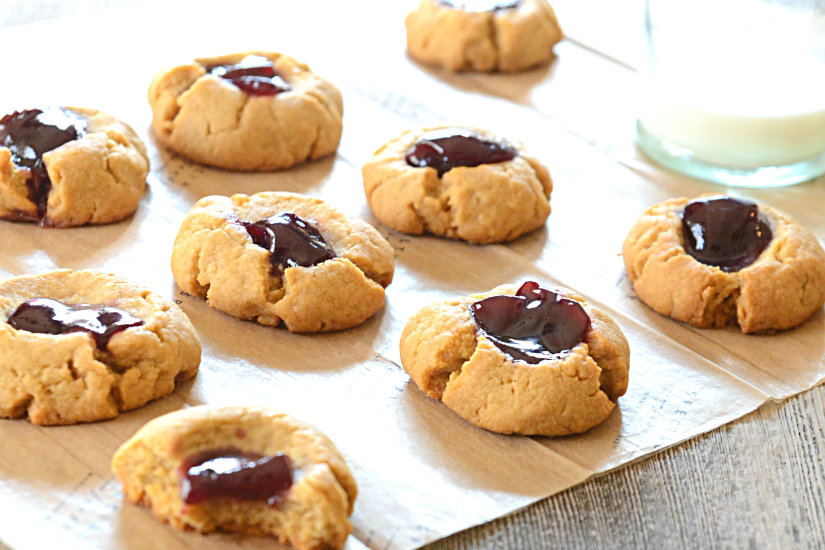 Inspired by Bothof's Bakery and Betty Crocker! Chocolate or Jelly Thumbprint Cookies from Bothof's were a childhood favorite. The convenience of the bakery vanished with our move to the country. The option became, bake them! Betty Crocker lived in our house in those days. With Betty Crocker's help a simple recipe was created.
This is a quick recipe with few ingredients. Top it with a candy kiss or peanut butter cup or Rolo. My favorite is still a small dollop of chocolate or raspberry jam or jelly. This cookie is so basic in flavor any number of toppings can be used. Love it!
BTW low sugar.
Recipe
Preheat oven to 350 degrees
Makes a dozen 1 1/2 inch cookies
1/4 Cup packed brown sugar
6 Tablespoons butter-room temperature
1 egg yolk
3/4 Teaspoon vanilla
1 Cup all purpose flour
1/4 Teaspoon salt
3 Teaspoons of raspberry jelly-divided (approximately 1/4 teaspoon per cookie)
Cream the butter and sugar until fluffy. Add the vanilla and egg yolk and cream.
Whisk the flour and salt together. Then add the flour slowly to the butter mixture until the batter is thoroughly mixed. The batter will be crumbly. Be sure to beat until the crumbles are large and hold together easily when pressed.
Use a small ice cream scoop for ease. Form 1 inch balls. Space an inch or two apart on a parchment paper covered cookie sheet. Press thumb into the top of each cookie but not all the way through to the bottom.
Place into the oven. After 10 minutes check the cookies. If the center is puffing up too much remove the cookie sheet and gently press the center of each cookie as needed. Be quick with your thumb or finger to avoid burn. The second pressing is not necessary if a candy piece is going to be added after baking.
Back into the oven to complete baking. About 20 minutes total baking time.
Remove from the oven and after several minutes add the jelly, 1/4 teaspoon to each center; or lightly press the candy piece in each center immediately when removed from oven.