Tomato Soup Cake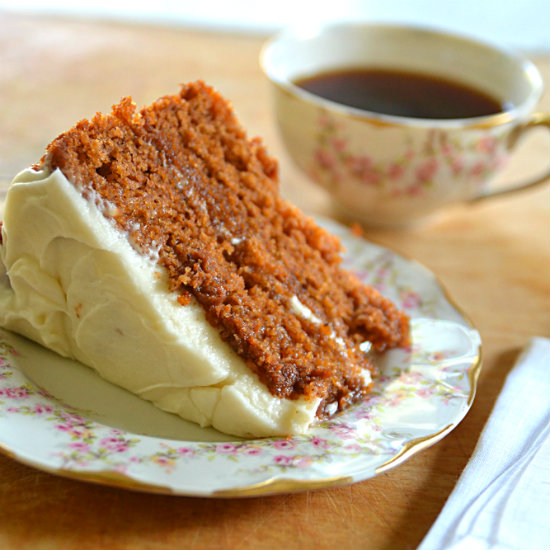 Spice Cake made with applesauce I can understand. Or Pumpkin, here. But with Tomato Soup! I'm not sure who decided this was a good idea decades ago. But if it becomes your birthday cake at 10 and you long for it each year and you're now 71 I'd say that's a pretty good indication Tomato Soup Cake is tasty. The question is, are all Tomato Soup Cakes alike. Nope! While many can say they can't taste the soup I'm not sure I can't in certain recipes. In this recipe the spices are healthy measurements. Yes, I believe certain spices are healthy too. Here I mean plentiful. Enjoy this spice cake recipe. Add nuts and raisins or not. We prefer it that way but it holds up if your pantry is bare.
Recipe
Preheat oven to 350 degrees F
Prepare two 9 inch round cake pans with 'baking' cooking spray, or butter and flour. Parchment paper rounds in the bottom of the cake pans are recommended. Flour and butter underneath these rounds and on top too.
Bake for 25-30 minutes or until done. A wooden skewer comes out clean when done. Test with a toothpick or wooden screwer in the very center of the cake.
1/2 Cup softened butter or shortening
2 Large eggs
1 1/4 Cup sugar
2 Cups all purpose flour or 2 1/4 cups cake flour
4 Teaspoons baking powder
1 Teaspoon Baking soda
1 1/2 Teaspoon ground allspice
1 Teaspoon ground cinnamon
1/2 Teaspoon ground cloves
1 Can condensed tomato soup (10 3/4 ounces)
1/4 Cup water
1/2 Cup raisins-optional
1/2 Cup walnuts-optional
Cream butter or shortening with the eggs in a large mixing bowl. Add the sugar and beat until sugar begins to dissolve.
Measure the dry ingredients including the spices into a separate bowl. Fluff with whisk to mix.
Alternate the dry ingredients with the soup and water into the butter/egg/sugar mix. Mix just until incorporated.
Fold in nuts and raisins if using.
Evenly divide the batter into two prepared baking pans. Spread batter evenly in each pan.
Bake. Cool for 10 minutes before removing the cake to wire racks.
Frost with cream cheese frosting or buttercream.