Tortilla Mini Quiches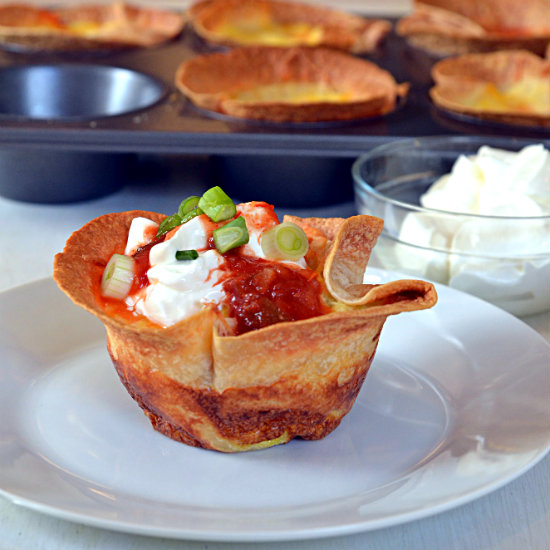 Extra flour tortillas? Here's some ideas! First, try this quiche. Quick, tasty and a great presentation for the holidays ahead. Make these tortilla bowls separately, too. Perfect for serving chopped avocados, sliced green onions, and work for sour cream and salsa if plated first. Or use them to serve a side salad with your favorite Enchiladas. How festive is that! (Check out our Mexican Food Category. We love love love Mexican Cuisine.)
Try this Easy Delicious Dessert too, Fruit Burritos. Perfectly Vegan!
Recipe
Preheat oven to 350 degrees F.
Prepare a large 6 muffin tin-I prefer a nonstick but either way use a cooking spray in each muffin cup.
6 Large flour tortillas
6 Large eggs
1/3 Cup evaporated milk, or half and half, or whole milk
4 Ounce can of chopped green chiles-your choice-I used jalapeño
6 Healthy tablespoons of your fav salsa and extra for serving on the side
2 Cups of shredded Mexican cheeses
Sour cream and green onions for garnish. Avocado can be served on the side too.
Yes, you can add meat to this. Just precook bacon, linguica, or chorizo. Crumble and add before baking.
*Microwave each tortilla about 10-15 seconds. Then place into the sprayed muffin cup gently pressing into place. The tortilla will overlap on the sides, and an inch to inch-and-a-half will stand above the opening. No need to pre-bake. Fill immediately following.
Beat the eggs until fluffy with the cream or milk. If you cut back on the cheese add a pinch of salt. Add pepper if you like.
Stir in the green chiles. This mixture, eggs/cream/chiles, should measure about two cups. Divide mixture between each of the cups, approximately 1/3 cup mixture in each.
Add a healthy tablespoon of salsa to each cup. Do not mix.
Add cooked meat if using, no more than a healthy tablespoon to each.
Top each cup with 1/3 cup shredded cheeses.
Bake for 35-40 minutes until the egg mixture no longer appears liquid in the middle.
*For the Flour Tortilla Bowls: Follow the directions above and bake at 350 degrees F until golden brown. These empty shells will bake faster. Check oven often.