Celebrate With Tres Leches Cake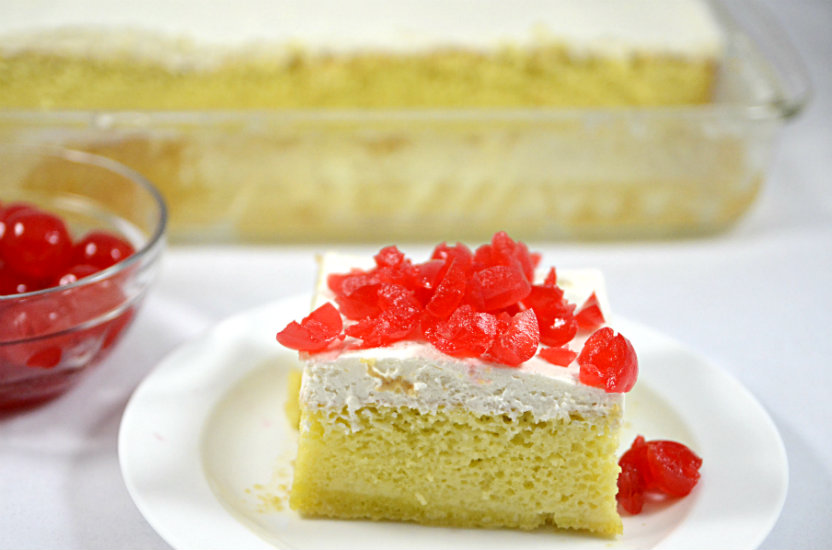 Happy Cinco De Mayo! We're celebrating! How about you? Have you tried this cake? If you haven't you're missing out! A special surprise is in store for you!
This recipe is quick and easy. I hope you'll give it a try!
We started celebrating yesterday with migas.
Happy Birthday Austin!
Recipe
Preheat the oven to 350 degrees F
30 minutes bake time for an oblong 9″ by 13″ pan
1 Cup cake flour-whisk and then measure
1 1/2 Teaspoon baking powder
1/2 Teaspoon salt
5 eggs at room temperature-separate the yolks from the whites
1 Cube butter (1/4 pound)-room temperature
1 Cup granulated sugar
1 Teaspoon vanilla
1 Can sweetened condensed milk-about 1 cup
1/2 Cup evaporated milk
1/2 Cup half and half
Whipped Topping
1/2 Pint heavy whipping cream
2 Tablespoons powdered sugar
1/4 Teaspoon vanilla
Measure the flour, add the salt and baking powder and whisk together. Set aside.
In a medium bowl beat the egg whites until soft peaks form. The whites will be glossy and not dry. Set aside.
In a large bowl beat the butter and granulated sugar until fluffy.
Add the vanilla and continue beating until mixed in well.
One egg yolk at a time add to the butter sugar mixture and beat well.
Add the flour mixture a little at a time to the egg/sugar/butter mixture mixing well.
Lastly add the beaten egg whites to the batter and fold.
Pour your batter into a greased and floured baking pan. Bake.
Check for doneness prior to the 30 minutes. The center should bounce back when touched if done. Use a toothpick in the center to check for doneness.
When done remove from oven and cool 15 minutes.
Use a meat fork with narrow tines and insert into the cake straight down touching the bottom of the baking pan lightly. Do this in rows first across the pan and then down the pan. Do so gently.
Mix the sweetened condensed milk, evaporated milk and half and half in a small pitcher.
Gently pour the milk mixture over the top of the cake evenly.
Let the cake continue to cool at room temperature for all together an hour. Cover with wrap.
Refrigerate until ready to eat. This cake must be refrigerated.
When ready to serve whip the heavy whipping cream until it begins to thicken. Add the powdered sugar and vanilla. Continue to whip until the cream forms peaks that are creamy. If this is done too long it becomes lumpy.
Spread over the top of the cake or serve on the side.
Garnish with you favorite fruit if you like.
Now for the best part. Eat!