Vegetarian Minestrone with Pesto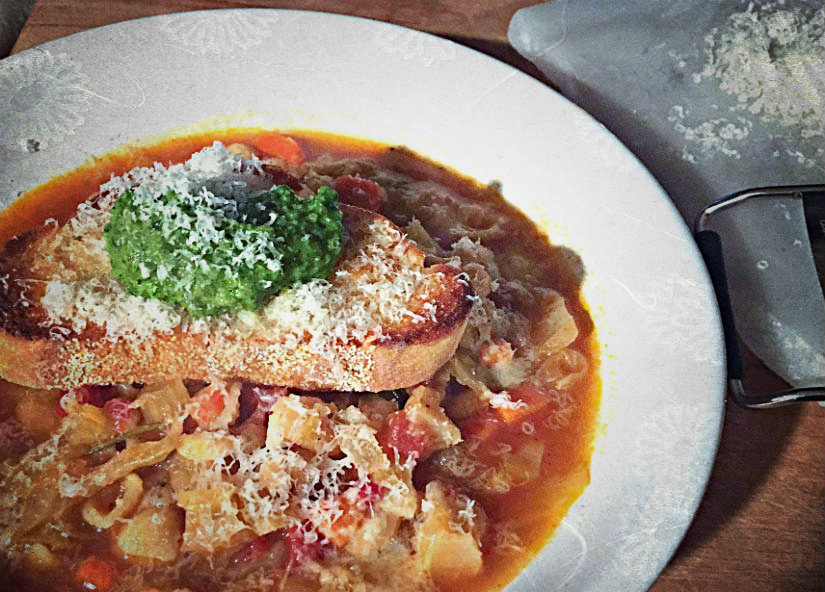 Some mornings I wake and am craving what I had for dinner. This is one of those mornings! Some prefer fruit for breakfast but give me a vegetable even if it's V8! Yep! I had this for breakfast! Leftovers that is. Worried about the garlic breath? Well, only the pesto is garlic laden. And the garlic toast. Ha!
Recipe
2 Tablespoons olive oil
1 Yellow onion-chopped small
3 Ribs of celery-diced
4 Carrots-diced
1/2 Large head of cabbage-chopped
1-1 1/2 Quarts vegetable broth
15 Ounce can petit cut tomatoes
1/2 Cup uncooked white beans-Italian, navy or northern
2 Large bay leaves
Sprig (small) of fresh rosemary
3 Sprigs of fresh Italian parsley
1 Tablespoon cider vinegar
1-2 Teaspoons sugar-optional
Salt and Pepper to taste
1/3 Cup dried small pasta-like small shells (As you reheat this soup the pasta continues to grow as it takes on moisture from the soup. Start with small pasta to avoid the soup being overwhelmed.)
Parmesan cheese for sprinkling. Soup can also be served with slice of garlic toast and or pesto.
In a dutch oven heat olive oil over medium heat. Add onion, celery, carrots and cabbage. Sauté all until lightly brown around edges and wilted down in size.
Add broth, tomatoes, beans, bay leaves, rosemary, and parsley. Bring to a simmer and continue to cook until beans are tender. Could take 1-2 hours.
Add the vinegar, salt and pepper. Taste. Add sugar if needed. If using Italian tomatoes you may not need the sugar.
Add the pasta and simmer until pasta is done to your liking.
Add garlic toast to the top of your soup with a dollop of pesto or add dollop directly to soup.
Sprinkle with generous amount of Parmesan.
Rosemary Pesto
Ingredients for this are usually in my pantry. And Rosemary & Parsley hold up in my yard during the winter unlike basil. Rosemary can take over the taste so only a small amount is used in my pesto.
1 Cup fine chopped parsley with bigger stems removed beforehand.
1/4 Cup Rosemary-only use the leaves not the woody stems
3 Cloves garlic
1/4 Cup best olive oil
1/3 Cup grated Parmesan
1/4 Cup walnuts (or pecans)
Pinch of red pepper flakes-optional
Salt to taste
Add all ingredients to blender or food processor and whirl until smooth.
Here is a recipe for Basil Pesto.
Simple Garlic Toast
1/2 – 1 Tablespoon salted butter per slice
2 Cloves garlic per 6 slices
In a medium skillet melt butter over medium heat. Add minced garlic and sauté for a minute or two. Either toast slices in the skillet or baste slices with melted butter/garlic mix and broil to toasty color.