Vermont Maple Syrup Baked Apples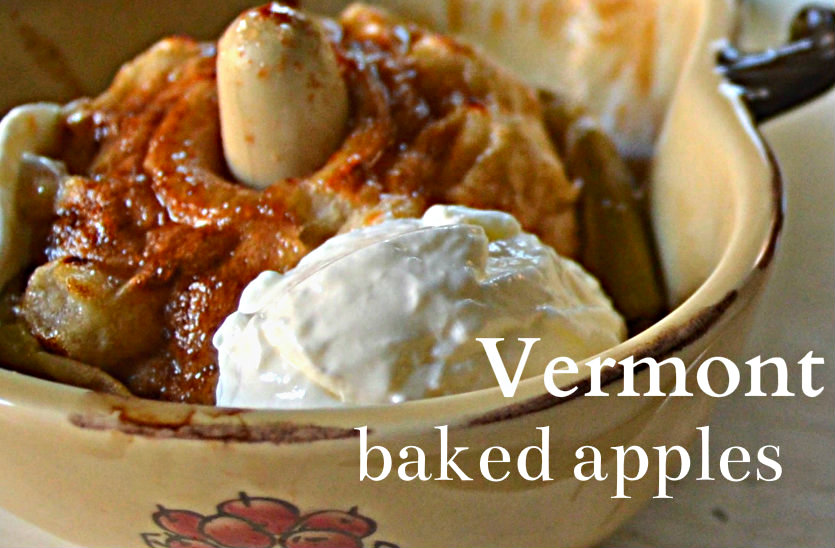 Vermont is one of my favorite places this time of year. So this recipe just seems fitting! Yep, for this recipe I use pure maple syrup from Vermont, one of the only three ingredients. When ingredients are few you opt for the very best! I must admit I've never been to Vermont except through the stories of a very close friend and the many movies with Vermont as the backdrop. And who hasn't heard Willie Nelson's version of Moonlight in Vermont.
Enjoy this really simple dessert or breakfast that makes up in minutes for a crowd or just one. BTW, World Market has quite an assortment of pure maple syrups. I haven't ordered from here yet but check out The Vermont Country Store. Looks amazing!
Recipe
Preheat oven to 400 degrees F
Lightly butter individual apple baking dishes, a muffin tin, or a baking dish just large enough to hold the apples close together. Place a teaspoon of water in each cup of the muffin tin or individual baking dishes. If using a single baking dish add a teaspoon of water for each apple.
Baking apples of your choosing-one for each serving
I Teaspoon salted butter for each apple
1 Generous tablespoon of pure maple syrup for each apple
Core each apple and peel about 1/4 the way down from the top. Peeling more will cause the apple to lose its shape more easily in baking.
Place the apples in baking dish or dishes.
Place a teaspoon of butter in the center of each apple.
Add the syrup over the top of each apple.
Bake 30 minutes or until apple is tender. Baste 3-4 times during baking.
Serve warm with ice cream, whipped cream or sour cream. Or simply with a sprinkle of cinnamon sugar.