Willitts Wild Duck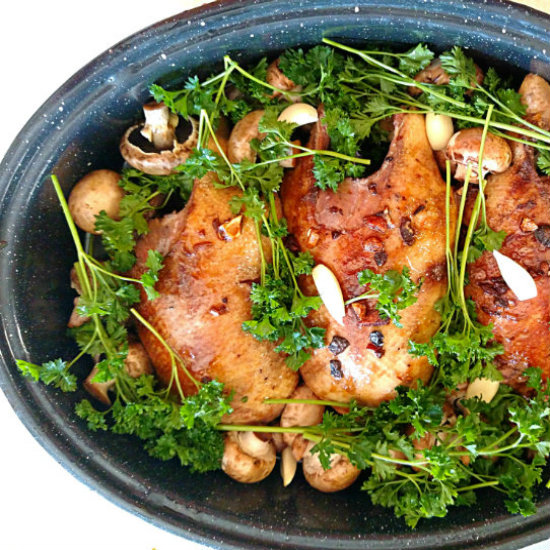 This was one of the Willitts' Pump Company Christmas Party favorites. Here is what my brother remembers: I'd remove the foil and lid in the last minutes of cooking so the aroma filled the shop. I'd plate it (usually 6 ducks) with sliced oranges and parsley … And put forks on the tray for a taste. It was gone in minutes!
Along with wild duck, cheeses, breads, pit meat, homemade olives for this party was my dad's Portuguese Beans. Enjoy recipe 1, here, and recipe 2, here.
Photo by David Willitts. Thanks David!
Recipe
Preheat oven to 350 degrees F.
3-4 (6 Teal) ducks
Olive oil
20 Garlic cloves
14 Ounces of chicken broth
1 Teaspoon salt
1 Teaspoon liquid hickory smoke
1 Teaspoon Maggi's liquid seasoning
1/4 Cup worcestershire sauce
2 Cups sweet white wine
1 Pound button mushrooms
1/2 Bunch parsley-stems trimmed
Heat a large frying pan with olive oil and 6 large chopped garlic cloves. Brown each duck.
Next, in a large roasting pan add the broth, salt, smoke, Maggi's, worcestershire and 1 1/2 cup of the wine. Stir.
Add the ducks to the roasting pan.
Deglaze the frying pan with the remainder of wine and pour over the ducks.
Place the remainder of the garlic, mushrooms and parsley over the ducks.
Now cover the roasting pan with foil and a lid.
Cook for 4-5 hours until the meat falls from the bone.