No Bake Pumpkin Pie
Cinnamon Graham Cracker Crust
Italian Meringue Or Simple Roasted Marshmallow Topping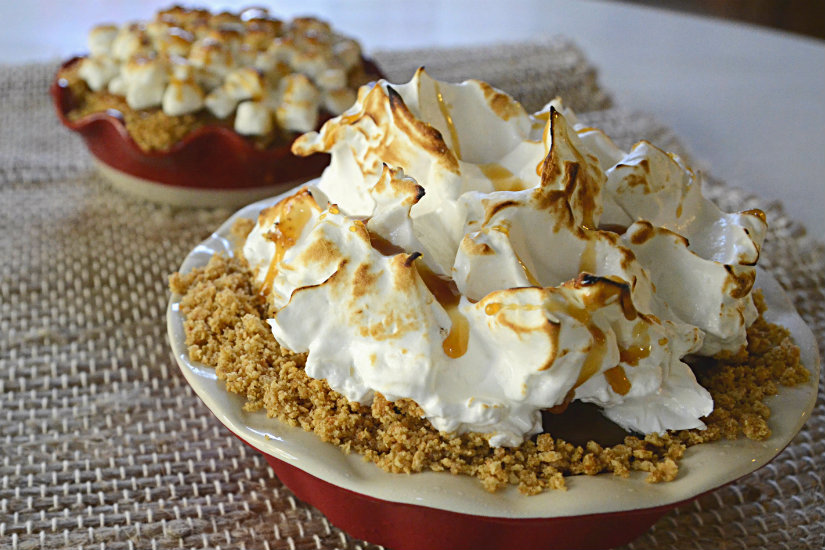 Every holiday it's quite a challenge to bake three pies, a turkey and roast vegetables all in the same oven … And well, time it to optimum freshness. It has taken me many years to get this down … And yes, some holidays I just miss disastrous results.
These no bake pies are a great idea anytime. For the holidays they are a nice surprise for the one or two guests who would prefer something other than the traditional pie. Or if you are trying to lighten up the baking serve this as the main dessert. It's amazing!
You'll be able to put this pie together a week or weeks before, with the exception of the topping, and hold it in the freezer until ready to serve.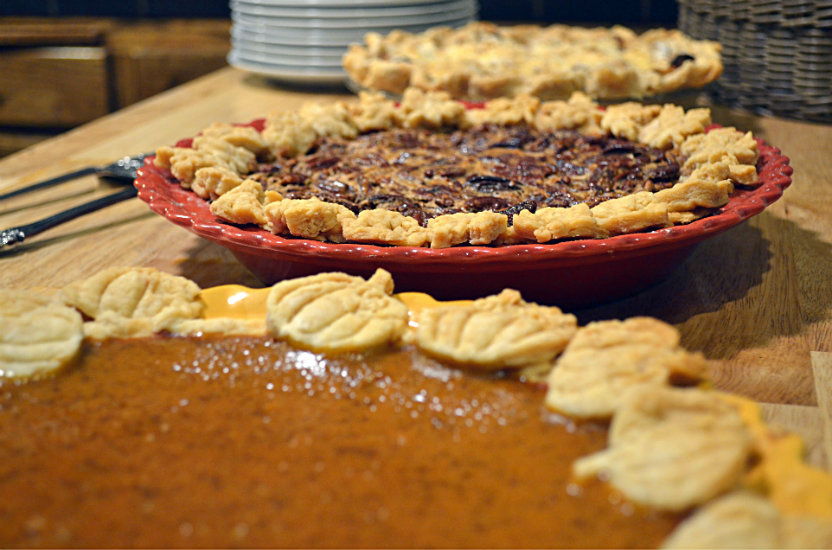 For the more traditional try these:
Recipe
Use an eight inch pie plate (freezer to oven type for safety)
Crust
1 Cup crushed fine cinnamon graham crackers
1/4 Cup butter-melted
Place one package of graham crackers into a plastic bag and seal the bag. (This package is 1/3 a 14.4 ounce box of graham crackers. Or use about 5 ounces by weight of graham crackers. I don't recommend graham bears. They have differing ingredients and are more expensive.) If you are a purest place your graham crackers between two sheets of parchment. Roll over the grahams until they are a fine crumb. A food processor works too.
Place the crumbs into a bowl and add the melted butter. Mix well.
Pour this into your pie plate and press around the edges and bottom. Place into the refrigerator or freezer until cold and set.
Filling
1 Generous quart of your favorite holiday ice cream. I used pumpkin pie but you can use butter pecan or cream cheese. Or how about a combination.
1/2 Cup caramel topping.
When crust has set prepare the ice cream to fill the shell. Either leave the ice cream at room temperature for a short time to make it easier to scoop or microwave the ice cream for a few seconds. Gently place into the shell packing as you go. Smooth over the top.
Pour the caramel topping over the top of the ice cream. Or if you have decided to layer two flavors of ice cream add the second layer.
Now back into the freezer until ready to serve. That simple!
Topping
Miniature marshmallows if using OR
3 egg whites
3/4 Cup sugar and half as much water.
More caramel for drizzle.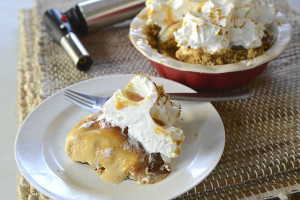 For Marshmallows place over the top of the pie and torch to roast, or flash broil in oven. Serve immediately.
For Italian Meringue egg whites must be a room temperature.
In a small sauce pan add the sugar and just enough water to cover. Over medium heat without stirring allow the mixture to reach 240 degrees F. You will need a thermometer for best results. This process takes about 10 minutes of low boil.
Just before the sugar mixture is ready begin beating the egg whites until well mixed but nothing more than soft peaks.
With the sugar mixture ready begin pouring slowly into the beaten eggs while beating the eggs at your highest speed. A free standing mixer is so nice for this because you will continue beating until the bowl cools to room temperature.
Taste it! It's delicious! Add a flavoring if you like but I didn't … like a sprinkle of cinnamon or pumpkin pie spices.
Pipe or just dollop on top the pie. Flash in oven to brown slightly, seconds under broiler, or torch.
Drizzle with caramel.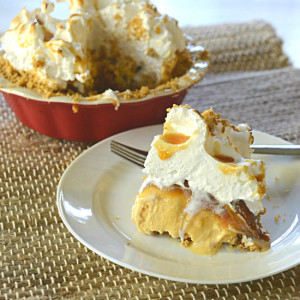 No Bake Pumpkin Pie and Italian Meringue