Pumpkin Panettone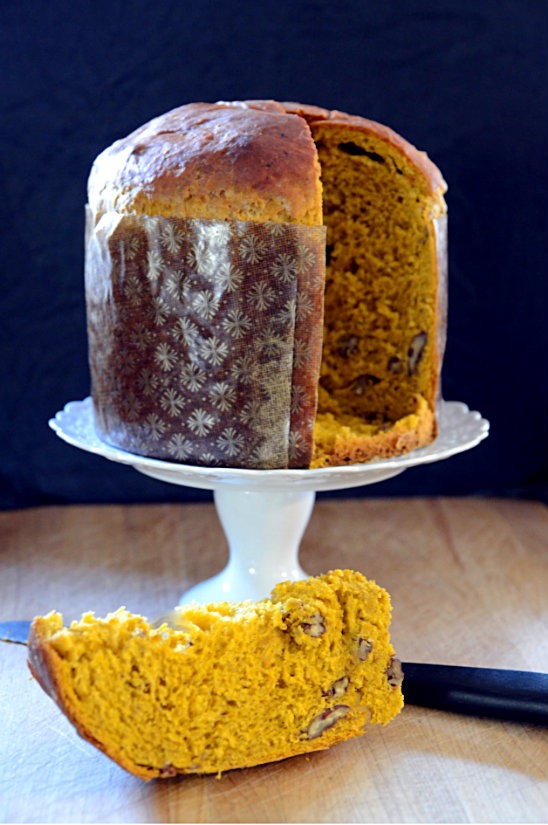 This is straight from my test kitchen. Ha! This is an amazingly simple recipe. A little time consuming but worth it. The texture is unchanged from the traditional panettone. The question is why. Why mess with the traditional panettone? It's simple. Not everyone in our family is into candied fruit. And without the candied fruit where do you go? Pumpkin and toasted or candied pecans. You can add raisins or chopped dates if you must. It's just a great change up for panettone.
I recommend a paper mold for baking. Baking time is a little faster using a paper mold, and clean up is a snap. This 2 pound loaf paper mold needs no greasing nor extra baking pan.
If you have any Panettone left give my next recipe a try, Panettone French Toast.
Recipe
Bakes at 350 degrees F for 45 minutes or until a thin wooden skewer straight down the center comes out clean. Do test the bread after 30-35 minutes especially if you have a fast baking oven.
1/2 Scant cup milk-heat to approximately 110 degrees F
2 packets rapid rise yeast
2/3 Cup sugar-divided
1 cup pumpkin puree (not premixed pie filling)
3 1/2-5 Cups all purpose flour
3/4 Teaspoon salt
1/2 Teaspoon ground cinnamon
1/2 Teaspoon ground cloves
1/4 Teaspoon nutmeg
1/4 Teaspoon Allspice
1/2 Cup salted European butter-slightly firm (if unsalted add additional 1/4 t salt)
2 Eggs-beaten
1 Cup toasted or candied pecans-chopped into pieces before measuring
1/2 Cup raisins or chopped dates optional
Shortening for greasing bowl
Mix heated milk, 1/4 c of the 2/3 c sugar, and the yeast (cover and set aside for 10 minutes until foamy)
Place pumpkin puree on a lipped cookie sheet and cover with paper towels to absorb excess liquid. The towels will lift off easily. Set pumpkin aside.
In a large mixing bowl measure 3 cups flour, the remainder of the sugar, salt and spices, whisk to mix. Have 2 additional cups of flour (whisked) available but not added at this time.
Make a well in the center of the flour mixture, add the yeast mixture, pumpkin puree and eggs. Mix to incorporate the ingredients well. The dough will be sticky at this point. Begin adding additional flour 1/2 cup at a time until dough can be handled without sticking to your buttered hands. You may use all 5 cups of flour. (Go slow and mix after each 1/2 cup.)
Remove mixture to a well floured surface and knead for 10 minutes adding a tablespoon of butter as you go until 1/2 cup butter is incorporated well into the mix. Form into a ball at the end.
Grease a bowl with shortening add dough. Flip ball to lightly grease both sides. Cover with towels and place in a draft free warm area until dough doubles. About 2 hours.
Punch down dough after first rise and knead in chopped nuts, and fruits if using. Form a ball. Place into the paper mold, cover with towels and let double again. About one hour.
Bake as noted above in a preheated oven. Make sure you allow room in your oven for the top to rise in baking.
Remove from oven when done and lightly butter top (or not) after the bread has rested 10 minutes. Then dig in.